This is the third post of the series, celebrating the brilliant winners of the #plantscistory2021 contest and their stories.

Maria Park is a PhD Student at the University of Minnesota. Her interests are forest biodiversity loss, plant ecophysiology, climate change, plant-soil interactions, remote sensing/spectral biology, and art-based science communication.
Maria presented for #plantscistory2021 contest a fantastic set of haikus about changing habitats on Twitter, accompanied by delightful watercolour paintings.
She kindly accepted to answer some questions about her interest in this topic and the process to create her story.
How did you build the story? What was the process of creating it?
I found out about the #PlantSciStory2021 scicomm challenge at the perfect time because I was in the process of identifying and refining the different axes of my research. Therefore, I took the #PlantSciStory prompt as an opportunity to practice explaining my research ideas to the public in a concise manner.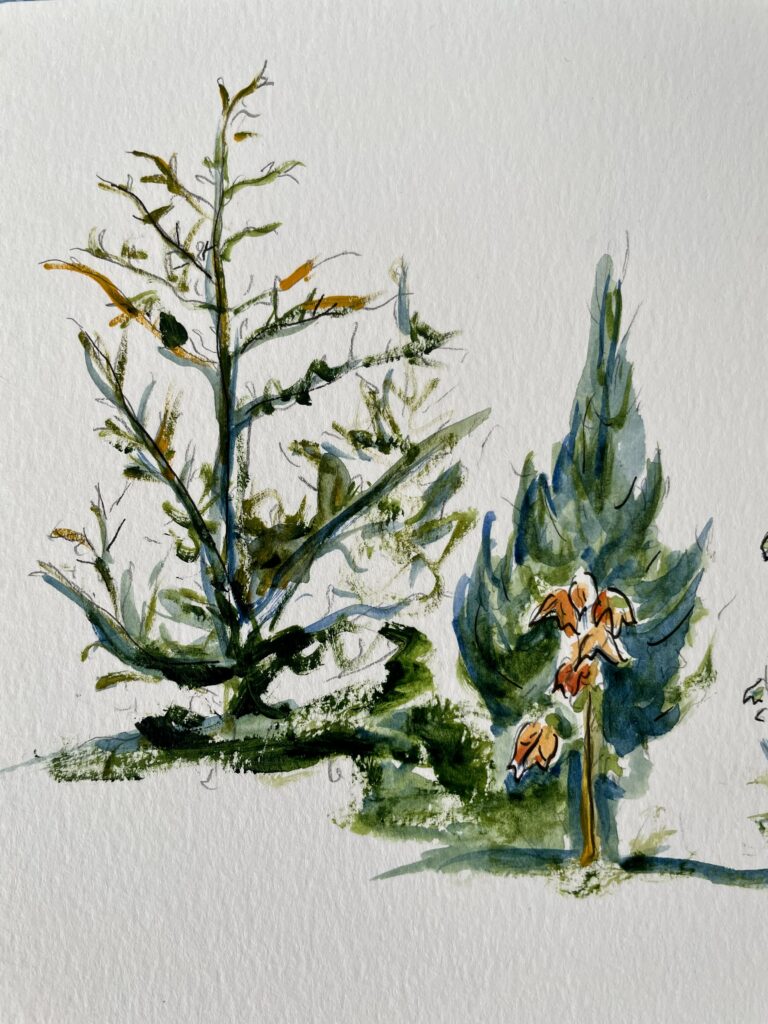 How did you choose the media and the language included in the story?
For me, painting is a sort of natural experiment. Watercolours embody feelings of freedom, uncertainty, and nature. You can draw lines to contain it, but the water and pigments are not bound to these borders. Each time I use the medium, I learn something new about how the materials interact to create a visual composition. Using watercolours, pen, and pencil, I illustrated trees of the experiment that represented the different foci of my research.
As for the language, a friend had recently reminded me of my love of poetry. I find myself drawn to haikus in particular. The act of composing a haiku pushes me to choose words deliberately and creatively. Each word contains meaning and has a role to play in the telling of the overarching story. I thought this poetry form was fitting for the #plantscistory challenge.
Why this topic? Why is it important? Why is it important to you?
I am concerned about how losing biodiversity will affect ecosystem processes. How will human-induced environmental changes shift existing forest community dynamics? There is an infinite number of unknowns when it comes to predicting the future. However, I believe that we should not be put off by this uncertainty. Rather, we should embrace the possibility of a more sustainable world and strive towards that. We have a moral responsibility to coexist with the other organisms that inhabit this Earth. Let us do our best to get along with our neighbours –human and non-human alike.
Maria Park full story: https://twitter.com/Chirpark/status/1402036743780638724
Follow Maria Park at @chirpark on Twitter.
---
About Plants, People, Planet
Plants, People, Planet is an Open Access journal that aims to promote outstanding plant-based research in its broadest sense and to celebrate everything new, innovative, and exciting in plant sciences that is relevant to society and people's daily lives. The journal is owned by the New Phytologist Foundation, a not-for-profit organisation focused on the promotion and advancement of plant science. Find out more.
About The Global Plant Council
The Global Plant Council is a coalition of 27 national, regional, and international organizations representing plant, crop, agricultural, and environmental sciences across the globe. GPC aim is to promote plant science across borders & disciplines, supporting those involved in research, education, and training, and to increase awareness of plant research in science and society. Find out more.