This is the fourth post of the series, celebrating the brilliant winners of the #plantscistory2021 contest and their stories.
Benedetta Gori is a young scientist with a highly interdisciplinary background. After a degree in Food Science, and two Masters in Ethnobotany and Plant Taxonomy, she is now working at Kew Gardens as part of the Useful Plants and Fungi of Colombia (UPFC) project, focusing on the conservation and revitalisation of neglected edible plants.
Her research combines spatial analysis and social sciences, looking at the biogeographic distribution of Colombian edible plants and their uses across different ecoregions. The aim is to direct targeted prioritisation efforts towards the conservation of underutilised species, as well as the development of new livelihoods based on their sustainable use.
Benedetta presented for #PlantSciStory2021 contest an Instagram post on why biodiversity matters and how small-scale agriculture can help tackle the problem, with Colombia as a focus of interest.
She kindly accepted to answer some questions about her interest in this topic and the process to create her story.
How did you build the story? What was the process of creating it?
The process of building my story started with my MSc thesis, from which I extracted relevant information and data. I decided to focus mainly on my research background, aims and early results, without including overly detailed information on my methods, which would have involved the use of a highly scientific language – not necessarily of interest to a larger audience. This information was then summarised into a few key points and broadcasted in the form of an Instagram post.
How did you choose the media (images, GIFs, short videos…) and the language included in the story?
I believe that to effectively communicate scientific concepts to an audience that is not necessarily familiar with them, the use of images is essential: they attract the readers' attention and keep them engaged. For that reason, I thought Instagram would have been the perfect platform to communicate my work easily and directly. I've rephrased my key points into a reader-friendly language – characterized by short, direct sentences and not strictly scientific terminology – and condensed them into four sentences. I then superimposed them on four images that recalled their content, aiming to create a visually appealing and easy-to-read story.
Why this topic? Why is it important? Why is it important to you?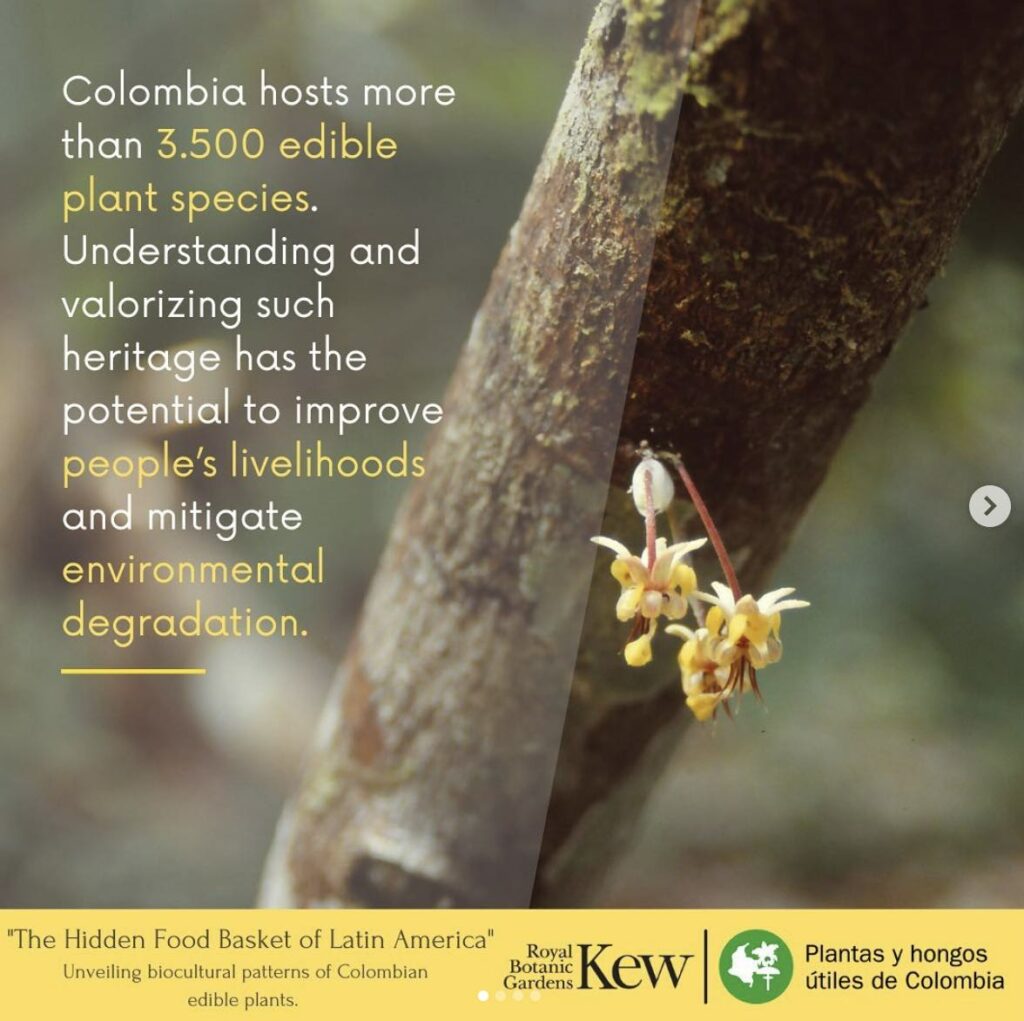 This topic is important because it promotes an innovative approach to biodiversity conservation which not only directly involves people but starts from the element of plant biodiversity with which they have a more intimate relationship: food. My work aims to showcase that biodiversity conservation can be incentivised through the sustainable use of local natural resources by human communities, and that all of this can start from the construction of a biodiverse gastronomy.
Due to market demand homologation and large-scale agricultural development, edible plant biodiversity is nowadays being lost at an unprecedented rate worldwide, together with the traditional knowledge and culinary practices associated with it. This topic acquires particular relevance when contextualised to developing countries like Colombia, characterised by unrivalled biodiversity rates, and yet often affected by poverty, food insecurity and growing environmental disruption. My work displays that in Colombia, native edible plant diversity can represent an effective solution to these issues: not only native foods are often characterised by high nutritional content; they have also been proved to be greatly adapted to the local natural environment and, therefore, more resilient. For all these reasons, neglected edible plants might represent a crucial resource to build new sustainable livelihoods, and could be key for a new Colombian green growth driven by community participation.
As a good Italian, I have always been extremely passionate about food and culinary traditions. Advocating the importance of protecting food biodiversity and demonstrating how this can contribute to sustainable development and environmental conservation gives me so much purpose and hope for a better future. I really hope that my work will help achieving this goal in Colombia, whose wonderful gastronomy just needs to be discovered (and tasted of course!).
Benedetta Gori full story: https://www.instagram.com/p/CPYhy9aBB-x/
Follow Benedetta Gori at @sbit on Instagram.
---
About Plants, People, Planet
Plants, People, Planet is an Open Access journal that aims to promote outstanding plant-based research in its broadest sense and to celebrate everything new, innovative, and exciting in plant sciences that is relevant to society and people's daily lives. The journal is owned by the New Phytologist Foundation, a not-for-profit organisation focused on the promotion and advancement of plant science. Find out more.
About The Global Plant Council
The Global Plant Council is a coalition of 27 national, regional, and international organizations representing plant, crop, agricultural, and environmental sciences across the globe. GPC aim is to promote plant science across borders & disciplines, supporting those involved in research, education, and training, and to increase awareness of plant research in science and society. Find out more.