This week we speak to Professor Stefan Jansson, Umeå University, Sweden, who is the President of one of the Global Plant Council member organizations, the Scandinavian Plant Physiology Society (SPPS). He tells us more about his fascinating work, his prominent role in the GM debate, and his thoughts on the work of the SPPS and GPC, both now and in the future.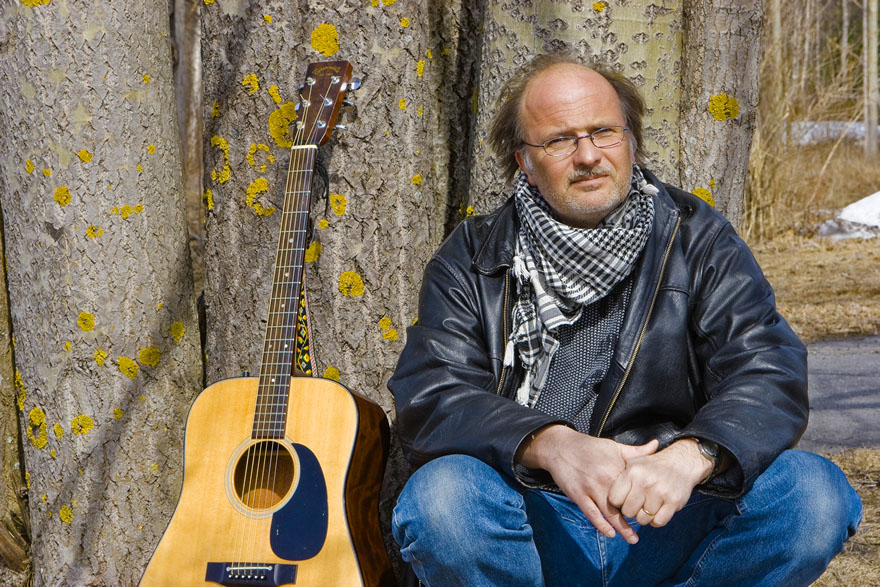 Could you tell us a little about your areas of research interest?
I have worked on (too) many things within plant science, but now I am focused on two subjects: "How do trees know that it is autumn?", and "How can spruce needles stay green in the winter?" We use several approaches to answer these questions, including genetics, genomics, bioinformatics, biochemistry and biophysics.
Your ground-breaking work on CRISPR led to you being awarded the Forest Biotechnologist of the Year award by the Institute of Forest Biosciences. Could you tell us more about this work, and the role you have played in the GM debate?
In our work on photosynthetic light harvesting, we have generated and/or analyzed different lines lacking an important regulatory protein; PsbS. PsbS mutants resulting from treatment with radiation or chemical mutagens can be grown anywhere without restriction, but those that are genetically modified by the insertion of disrupting 'T-DNA' are, in reality, forbidden to be grown. For years, I, and many other scientists, have pointed out that it does not make sense for plants with the same properties to be treated so differently by legislators. In science we treat such plants as equivalents; when we publish our results we could be required to confirm that the correct gene was investigated by using an additional T-DNA gene knock-out line or an RNAi plant (RNA interference, where inserted RNA blocks the production of a particular protein), but in the legislation they and the 'traditionally mutated' plants are opposites.
This has been the situation for many years, but it has been impossible to change. To challenge this, we set up an experiment using a targeted gene-editing approach called CRISPR/Cas9 to make a deletion in the PsbS gene, which resulted in a plant with a non-functional PsbS gene but no residual T-DNA. We asked the Swedish competent authority if this would be treated as a GM plant or not, arguing that it is impossible to know if it is a 'traditional' deletion mutant or a gene-edited mutant. In the end, the authority said that, according to their interpretation of the law, this cannot be treated as a GMO.
If this interpretation is also used in other countries, plant breeders will have access to gene-editing techniques to aid them in their work to generate new varieties, which would otherwise not be a possibility. The reason we did this was to provide the authorities with a concrete case, and one which was not linked to a company or commercial crop but rather something that everyone would realize could only be important for basic science. Therefore most of the arguments that are used against GMOs could not be used, and this should be a step forward in the debate.
Check out Stefan's fantastic TEDxUmeå talk to hear more on the GM debate:

You are the President of the Scandinavian Plant Physiology Society, one of the Global Plant Council member organizations. Could you briefly outline the work of the SPPS?
We support plant scientists – not only plant physiologists – in the Nordic countries, organize meetings, publish a journal (Physiologia Plantarum), etc.
What are the most important benefits that SPPS members receive?
This is an issue that we discuss a lot in the society right now. Only a limited fraction of Nordic plant scientists are members – obviously are the benefits not large enough – and this is something that we intend to change in the coming years. We think, for example, that we need to be a better platform for networking between researchers and research centers, and have a lot of ideas that we would like to implement.
How does the GPC benefit the SPPS?
Although there are country- and region-specific issues important for plant scientists, the biggest issues are global. The arguments why we need plant science are basically the same whether you are a plant scientist in Umeå or Ouagadougou, therefore we all benefit from a global plant organization.
What do you see as important roles for the future of the GPC, both for SPPS and the wider community?
This is quite clear to me: we will contribute to saving the planet.
What advice would you give to early career researchers in plant science?
Your curiosity is your biggest asset, so take good care of it.
Is there anything else you'd like to add?
The challenge for the GPC is clearly to get enough resources to be able to fulfil its very worthwhile ambitions. GPC has made a good start: the vision is clear and the roadmap is there, which are two prerequisites, but additional resources are needed to employ people to realize these ambitions, build upon current successes, and perform the important activities. It is easy to say that if we all contribute with a small fraction of our time that would be sufficient, but we all have may other obligations and commitments, and a few dedicated people are needed in all organizations.