Promoting and supporting plant health will be an important part of how we achieve the United Nations' Sustainable Development Goals (SDGs). Andrea Powell, Chief Information Officer of the Centre for Agriculture and Biosciences International (CABI) looks at how the CABI-led Plantwise programme is helping to make a difference.
By Andrea Powell
On 26th and 27th July 2016, CABI held its 19th Review Conference. This important milestone in the CABI calendar saw our 48 member countries come together to agree a new medium-term strategy. As always, plant health was a key focus to our discussions, cutting across many of CABI's objectives. For CABI, with 100 years of experience working in plant health, it has become one of our most important issues, upon which our flagship food security program, Plantwise, has been built.
Plant health can, quite simply, change the lives and livelihoods of millions of people living in rural communities, like smallholder farmers. Human and animal health make headlines, while plant health often falls under the radar, yet, it is crucial to tackling serious global challenges like food security. Promoting and supporting plant health will be an important way to achieve the Sustainable Development Goals (SDGs).
Plant health and the SDGs
Take, for example, SDG 1, which calls for 'no poverty'. The UN states that one in five people in developing regions still lives on less than $1.25 a day. We know that many of these people are smallholder farmers. By breaking down the barriers to accessing plant health knowledge, millions of people in rural communities can learn how to grow produce to sell to profitable domestic, regional and international markets.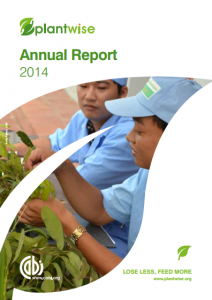 SDG 2 focuses on achieving 'zero hunger'. Almost one billion people go hungry and are left malnourished every day – and many are children. Subsistence farmers, who grow food for their families to eat, can be left with nothing when their crops fail. Access to plant health knowledge can help prevent devastating crop losses and put food on the table.
Interestingly, SDG 17 considers 'partnerships for the goals' and is critical to the way in which we can harness and share plant health knowledge more widely to help address issues like hunger and poverty. By themselves, individual organizations cannot easily resolve the complicated and interconnected challenges the world faces today. This is why partnership is at the heart of CABI's flagship plant health programme: Plantwise.
What is Plantwise?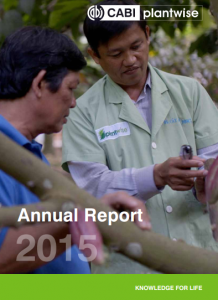 Since its launch in 2011, the goal of Plantwise has been to deliver plant health knowledge to smallholder farmers, ensuring they lose less of what they grow. This, in turn, provides food for their families and improves living conditions in rural communities. Plantwise provides support to governments, helping to make national plant health systems more effective for the farmers who depend on them. Already, Plantwise has reached nearly five million farmers. With additional funding, and by developing new partnerships, we aim to bring relevant plant health information to 30 million farmers by 2020, safeguarding food security for generations to come.
Plantwise 'plant clinics' are an important part of the fight against crop losses. Established in much the same way as clinics for human health, farmers visit the clinics with samples of their sick crops. Plant doctors diagnose the problem, making science-based recommendations on ways to manage it. The clinics are owned and operated by over 200 national partner organizations in over 30 countries. At the end of 2015, nearly five thousand plant doctors had been trained.
Harnessing technology for plant health
The Plantwise Knowledge Bank reinforces the plant clinics. Available in over 80 languages, it is an online and offline gateway to plant health information, providing the plant doctors with actionable information. It also collects data about the farmers, their crops and plant health problems. This enables in-country partner organizations to monitor the quality of plant doctor recommendations; to identify new plant health problems – often emerging due to trade or climate change issues; and develop new best-practice guidelines for managing crop losses.
The Plantwise flow of information improves knowledge and helps the users involved: farmers can receive crop management advice, and researchers and governments can access data from the field. With a new strategy for 2017–19 agreed, CABI will continue to focus on building strong plant health systems. We are certain that plant health is of central importance to achieving the SDGs and, together in partnership, we look forward to growing the Plantwise program and making a concrete difference to the lives of smallholder farmers.
"A few years ago, I would make ZMW 5000 per year. Last year I got 15 000. I have never missed any plant clinic session. I've been very committed, very faithful, because I have seen the benefits."––Kenny Mwansa, Farmer, Rufunsa District, Zambia.
Take a look at Plantwise in action in Zambia (YouTube):
Meet Linda, a Zambian plant doctor
Learn more about Plantwise at www.plantwise.org.