Five (5) high-yielding hybrid maize varieties developed by scientists from the CSIR-Crops Research Institute, have all been approved and recommended for release onto the market for cultivation and consumption by the National Varietal Release and Registration Committee (NVRRC) of Ghana.
Mr. Seth Osei-Akoto, the Chairman of the NVRRC, made the announcement of the approval and recommendation of the new CRI maize hybrids after the Committee's second and final validation at the Institute. He applauded the Institute for responding to the nation's challenge of a lack of enough high-yielding hybrid maize varieties and further encouraged promotion and marketing strategies that will ensure that the seeds are available to farmers.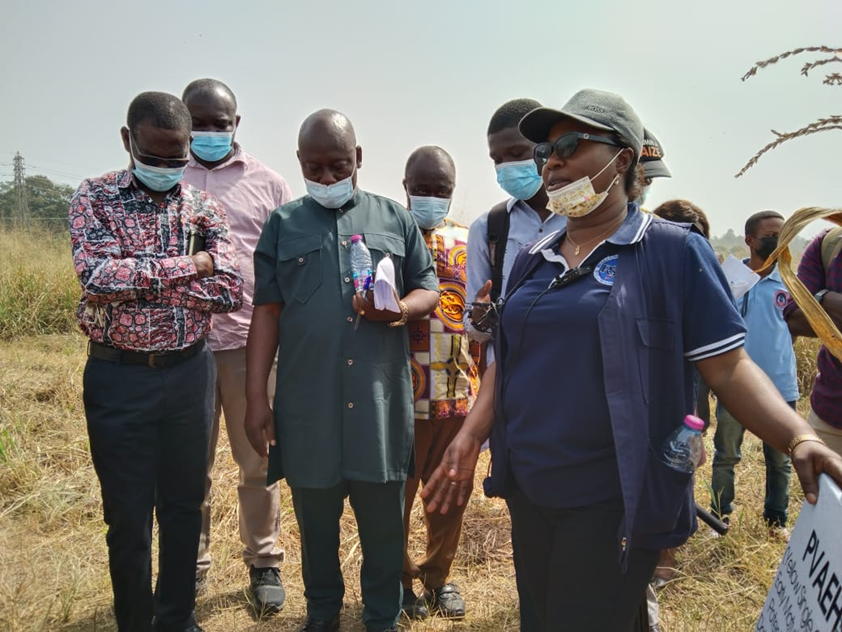 The varieties, which will now be gazetted by the National Seed Council are the result of several years of extensive on-station and on-farm trials by the Institute's maize breeding team led by Dr. (Mrs.) Priscilla Francisco Ribeiro, the first female maize breeder at the CSIR-Crops Research Institute.
Three of the varieties, LY1001-23, LY1501-7, LY1409-21 are intermediate-maturing, pro-vitamin "A" hybrids with potential yield ranges of between 6.7t/ha-8.1t/ha. Another variety, PVAEH-7, is the first early maturing (85-90 days) pro-vitamin "A" maize hybrid released in Ghana and is also tolerant to Striga, the most dangerous weed to maize.
Consumption of pro-vitamin "A" varieties, will fight against vitamin "A" deficiencies (VADs) which expose humans to severe health implications such as growth retardation, a weakened immune system, night-blindness and pre-dispose children to several diseases. In Ghana, 72% of children under age 5, are affected by VADs resulting in 17,200 deaths annually. The high prevalence of VADs in Ghana is partly attributed to low bio-available vitamin "A" in the predominant cereal, root and tuber crop based foods consumed by adults as well as infants.
Lead breeder and team leader, Dr. Priscilla Ribeiro, expressed appreciation to project sponsors, HarvestPlus and the Accelerating Genetic Gains in Maize (AGG) project for their funding and continued support throughout the duration of the project. She called for more of such collaborations in the future. Dr. Ribeiro, in her presentation, encouraged the development of more hybrid maize varieties since, given the same labour and cultivation costs, hybrids usually yield higher than the more common open-pollinated varieties (OPVs) farmers usually grow. "Hybrids are the best option for commercial and small farming because the high yield potential is guaranteed when planted," she said.
Farmers and end users are encouraged to contact the CSIR-Crops Research Institute, at Fumesua and Kwadaso or offices of the Agriculture Departments and various agro-input dealers to access seeds for planting.
---
Article source: CSIR-CROPS RESEARCH INSTITUTE
Image credit: CCO