Plants really are fascinating, and their continued research and conservation are vital for our survival. To this end, the third international Fascination of Plants Day (FoPD) was held on 18th May 2015, led by Global Plant Council member organization EPSO (European Plant Sciences Organisation). The aim of the day was to enthuse as many people around the world as possible about plant sciences, and to demonstrate the importance of plants in everything from sustainable food production to pharmaceuticals.
The day was a great success with over 874 events held at over 500 institutions in 54 countries around the world! Events were attended by a diverse range of people from all backgrounds and ages, and held at a variety of organizations including museums, universities, research institutes, schools and botanic gardens.
Thank you to everyone who sent their lovely photos to us – it was absolutely wonderful to look through them all! With so many people taking part, we couldn't possibly report on everything, so in this blog post we provide you with a small snapshot of the diverse FoPD activities from around the world.
Events were held in several cities across Argentina including La Plata, Diamante and Esperanza.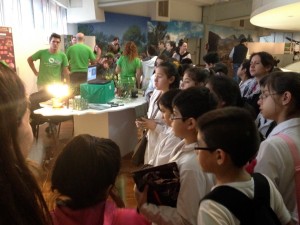 A wide variety of events were held across Córdoba aimed at every one from pre-schoolers to adults. The Museum of Natural Sciences had 18 stands featuring exhibits, games, and activities aimed to increase awareness of native forests. The National Academy of Sciences hosted lectures by distinguished scientists on diverse topics ranging from curious plant names to biotechnology; the enthusiastic audiences responded well by asking thought-provoking questions. In addition, The School of Biology at the National University of Córdoba prepared six stands and offered visits to the Botanical Museum. The Catholic University of Córdoba focused on how natural insecticides are obtained from plants and microscopic plant structures.
'Making the invisible visible' was the theme of a joint event between the Faculty of Life Sciences of the University of Vienna and the Gregor Mendel Institute (GMI) of the  Austrian Academy of Sciences. Over 500 people attended a family event on Sunday, May 17, which involved exciting hands-on experimental workshops and guided tours. An international 'root race' allowed visitors to bet on how fast roots from Arabidopsis plants collected from six locations around the world would grow. Visitors also had the chance to see CT-scans and 3D rendering in action to see inside of a plant.
Six FoPD events were held across Bulgaria, all of which can be seen on this blog.
At Sofia University, a variety of presentations, photography contests, demonstrations, performances and experiments explored the diversity of exotic plants, the magic of Bulgarian herds, the forests that are the lungs of the Earth, plant diseases, and the role of aquatic plants for life in the water.
Members of the Institute of Plant Sciences at Forschungszentrum Jülich gave guided tours and presentations to the public during the morning of FoPD. In the afternoon they built a willow hut close to the institute that will provide shade in summertime and will also be used for social events in the future.
Researchers from the institute also went into local schools to talk to young children about the importance of plants.
There were 36 diverse events organized across Hungary.
In Szeged, the University of Szeged joined forces with the Institute of Plant Biology of the Hungarian Academy of Sciences and Cereal Research Non-Profit to organise a two-day event. Lectures covering a diverse range of topics were delivered by university lecturers and plant breeders on subjects including Hungary's biggest trees, a plant's dispersal strategies, and the effect of climate change on plants. In parallel to these lectures were a series of demonstrations. Visitors could explore DNA extraction from strawberries using rum and pineapple,  photosynthesis, writing onto leaves using light, and take part in a discussion on genetic modification.
A big welcome to Mexico who participated in FoPD for the first time this year! A range of diverse events were held at universities, NGOs, museums and botanic gardens across the country.
A variety of events were held at the ENES UNAM Leon. Talks and activities focused on the evolution of maize, and traditional agricultural methods used by the Aztecs. Students had the opportunity then to help plant trees and make the very first vegetable gardens on campus.
FoPD was also celebrated in Mexico by NGO Signos Iraputo, The Institute of Technology in Purisima del Rincon, the science museum in Mexico City, and the botanical gardens of INECOL in Veracruz.
Fifteen hundred people attended 48 events across Russia in St. Petersburg, Moscow, Kazan, Kemerovo, Petrozavodsk, Perm, Pskov and Tula.
To see more from Russia, visit the Russian FoPD blog.
A variety events were held across the UK to celebrate FoPD.
On May 16th the World Museum in Liverpool hosted its third FoPD in collaboration with scientists and educators from the University of Liverpool.
Over 500 visitors passed through the exhibition with Rose Froud and Andrew Lambie showing visitors of all ages how to make pots out of newspaper and then helped them plant either sunflowers or runner beans. Elsewhere, GARNet's Geraint Parry helped visitors to extract DNA from strawberries and then load them onto a genome sequencer.
At Kew Gardens, Hugh Pritchard, Wolfgang Stuppy, Peter Toorop and Charlotte Seal welcomed over 60 visitors. Wolfgang spoke about the biodiversity of the Brazilian Amazon, and guided tours were given of the Wellcome Trust Millennium Building.
Over 170 people visited scientists at Robert Gordon University in Aberdeen, who hosted an open day highlighting the importance of plants in everyday life. During the day funds were also raised for the Nepalese Earthquake Appeal using plants donated from a local gardener.
The Oxford Fascination of Plants Day event took place at the Harcourt Arboretum. Displays at the event came from several different groups and organisations, including several stands from the University of Oxford Department of Plant Sciences.
For more photos from the University of Reading FoPD visit Dr M Goes Wild blog, and for more from Greenwich University see the MSc Applied Plant Science Facebook page.
Co-ordinated by GPC member organization the ASPB, a number of events took place around the USA. More information and detail about all events can be found on the ASPB FoPD blog.
ASPB member David Puthoff from Frostburg State University explored how plants sense their environment, as well as how plants are used in everyday food, clothes and medicine. Over 60 first-grade students discussed how plants can tell up from down, and what cues the plants might use to make their decision.
In New Jersey, Leeann Thornton, a plant biology professor at The College of New Jersey, taught third graders about plant diversity and identification. Some children were so excited by this that they took plant identification books outside at break time to learn more trees! In addition to this pre-schoolers explored the life cycle of a plant through dancing. The children watched time-lapse movies of growing plants before talking about the role of plant stems, roots and flowers and pretending to be growing plants. The next day several parents commented that their children had talked all evening about plant dancing!