Lisa Martin reports on the GPC's recent Stress Resilience Symposium and Discussion Forum in Brazil, and highlights some of the brilliant online tools that are available to scientists working in this area.
It's a strange thing to be packing for 38ºC weather while the temperature at home in England steadily plummets towards 0ºC. Nevertheless, leaving a cold and rainy London behind, Team GPC took to the skies on 21st October and touched down in tropical Foz do Iguaçu, a resort town on the Brazil/Argentina/Paraguay border.
Iguaçu is best known for its spectacular UNESCO World Heritage waterfalls, but we – that is myself, Executive Director Ruth Bastow, and our two New Media Fellows Amelia and Sarah – were in town for three different reasons. As well as attending the International Plant Molecular Biology conference, followed by the GPC's Annual General Meeting, we were also running a Stress Resilience Symposium in collaboration with the Society for Experimental Biology (SEB), on 23rd and 24th October.
The intention of this Symposium was to bring together experts from around the world to discuss current research efforts in developing plant stress resilience, to showcase new approaches and technologies, and build new networks and collaborations. Our goal is to help contribute to global efforts to develop crops and cropping systems that are better able to deal with fluctuating and stressful environmental conditions.
Food Security Challenges
After a welcome from the new GPC President Professor Bill Davies (Lancaster University, UK), the Symposium got started with a session focused on how scientists are helping to overcome existing and emerging barriers to food security.
Speakers included Matthew Reynolds, who gave an overview of the crops and climate change research at CIMMYT in Mexico; Lancaster's Martin Parry, who described his group's work to translate findings in Arabidopsis to capture more carbon and improve the water and nutrient use efficiency of crops; and Bob Sharp from the University of Missouri (USA), who spoke about trying to understand root responses to drought.
As well as hearing from Matthew Gilliham (University of Adelaide, Australia), and Sarah Harvey (University of Warwick, UK), Jean-Marcel Ribault from CGIAR in Mexico described the collaborative approach to developing food crops, with stress resilience in mind, being taken by partners involved in the Generation Challenge Program (GCP, not to be confused with GPC!).
The ultimate aim of this program, Jean-Marcel said, is to improve the germplasm in farmers' fields, focusing on research on six staple crops, the integration of data management, and building capacity for the future.

To help with the 'integration of data management' arm of the project, the GCP consortium has developed the Integrated Breeding Platform (IBP). As well as providing access to many different germplasm resources and diagnostic markers, central to the IBP's offering is the Breeding Management System, "a suite of interconnected software specifically designed to help breeders manage their day-to-day activities through all phases of their breeding programs. From straightforward phenotyping to complex genotyping, it provides all the tools you need to conduct modern breeding in one comprehensive package".

The IBP is hosted on the cyberinfrastructure provided by the iPlant Collaborative, which, in case you've never heard of it, provides free and open access not only to high performance computing power via virtual machines, but also to a huge range of user-friendly, largely user-generated software for biological data analysis. Quick plug: you can find out more about it by reading this JXB paper I wrote with my former colleagues at the UK Arabidopsis research network GARNet…:-)
Improving stress tolerance in variable environments
The session after lunch took a closer look at some specific stress-related challenges. Drought tolerance was a popular topic, with Andrew Borrell of the University of Queensland (Australia), Vincent Vadez from ICRISAT, and INRA's François Tardieu all presenting work in this area. Scott Chapman also provided some insights into the modeling work going on at Australia's CSIRO, which is helping crop breeders to decide which traits to focus on to adapt to different sources of stress. He mentioned QuGene, a tool available via the Integrated Breeding Platform, which is simulation software to investigate the characteristics of genetic material undergoing repeated cycles of selection and molecular marking.

In presenting her work on understanding aluminium toxicity and tolerance in rice, Lyza Maron from Cornell University (USA) introduced us to the Rice Diversity Project, a collaborative effort to explore the genetic basis of variation in rice and its wild ancestors. The Rice Diversity Project website (www.ricediversity.org) hosts a large number of freely available data sets for different rice lines, and a number of tools developed during the project are also made freely available, including a genome browser, a genome subpopulation browser, a seed photo library viewer, and other pieces of analysis software that you can download.
Innovating for Stress Resilience
In the next session, we heard about some exciting projects being carried out across the globe that are advancing our understanding of stress resilience in plants. Chile's Ariel Orellana gave a fascinating talk about mining the genome of Cystanthe longiscapa, a flowering plant native to the extremely barren and dry Atacama desert; Elizabete Carmo Silva from Lancaster University talked about high-throughput phenotyping in the field, China's Xinguang Zhu demonstrated some quite stunning 3D models simulating cell structures, water and metabolite movement in the leaf; and potato root architecture was the theme of the presentation made by Awais Khan from the International Potato Center in Peru.
Speaking about the part her lab played in the PRESTA project, Warwick's Katherine Denby showed us some of the complex, intricate transcriptional network models used to predict, test and reveal interactions between genes involved in Arabidopsis' defence against Botrytis cinerea. Source code for the WIGWAMS tool, which was specially created to help analyse multiple gene expression time series data, is available here.
Short poster talks
At the end of a fascinating day of fantastic science, we heard some short talks from up and coming researchers whose posters had been selected for an oral presentation: make sure to look up the awesome work of rising stars Elizabeth Neilson from the University of Copenhagen, Nicolas Franck from Universidad de Chile, Cristina Barrero-Sicilia from Rothamsted, and our very own Amelia Frizell-Armitage from the John Innes Centre!
Day 2 – the discussion forum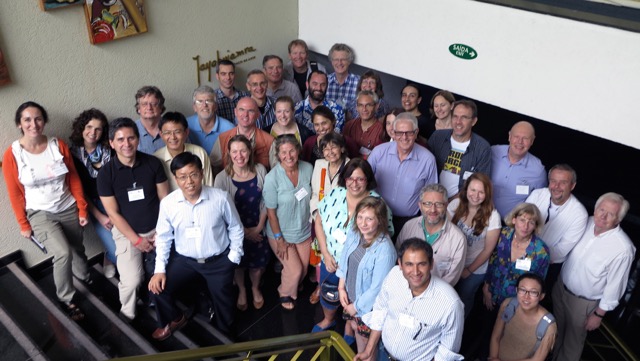 But the Stress Resilience Symposium didn't end there… The next day a smaller group of invited experts returned to the meeting venue for some in depth discussion and debate. The aim of the day was to prepare the ground for a forthcoming GPC report, which will highlight the specific challenges facing plant science in terms of developing stress resilient crops and cropping systems, and outline some potential solutions that the plant science community – and those beyond it – can initiate to meet these challenges.
After hearing some presentations about successful large-scale, international projects such as DROPS, IDuWUE, IWYP and others, attendees split off into breakout groups to discuss what they felt to be the key challenges facing stress resilience research today, and the areas in which plant scientists around the world need to come together to mitigate these challenges. Unsurprisingly, this session was lively and animated, with several differences of opinion, but each thought was a valuable and useful contribution to the assessment of the global landscape. Participants talked about the current regulatory climate, particularly surrounding GM and gene edited crops; the need for silos of knowledge to be linked and shared, and for effective technology transfer to make sure that the science we do in the lab has impact in the field – and in the fields where that science is most needed.
After a long but fruitful two days of great science, effective knowledge and ideas sharing, the Stress Resilience Symposium ended with a team photo and further opportunities for "networking" by the hotel pool (or for the Australian participants among us, the Argentina vs. Australia Rugby World Cup Semi Final!). The GPC is now compiling an official report, based on the discussions at the meeting, which we hope will provide a powerful and realistic call to action for stress resilience scientists across the globe to come together. Watch this space!
Thanks to Oliver Kingham and Paul Hutchinson from the SEB, Professors Vicky Buchanan-Wollaston and Jim Beynon from the University of Warwick, Professor Bill Davies from Lancaster University and Andrew Borrell from the University of Queensland for their help in making this symposium possible.