By Baraka Rateng'
Struggling East African dairy farmers could benefit from new varieties of high-quality, drought-resistant forage grass known as Brachiaria that boosts milk production by 40 per cent, a report says.
The forage grass could enable farmers to increase their incomes, according to experts at the Colombia-headquartered International Center for Tropical Agriculture (CIAT) – a CGIAR Research Center.
Steven Prager, a co-author of the report —  which was published last month — and a senior scientist in integrated modelling at the CIAT, says the report  was based on many years of forage research in Latin America and the Caribbean, and recent field trials in Kenya and Rwanda from 2011 to 2016.
According to Prager, the study demonstrates the high potential for improved forages in East Africa and high payoff for investment in improved forages.
"The results are based on multiple scenarios of an economic surplus model with inputs derived from a combination of databases, feedback from subject matter experts and a literature review," he explains, adding that the economic analysis was carried out at CIAT headquarters with the support of tropical forage experts in East Africa.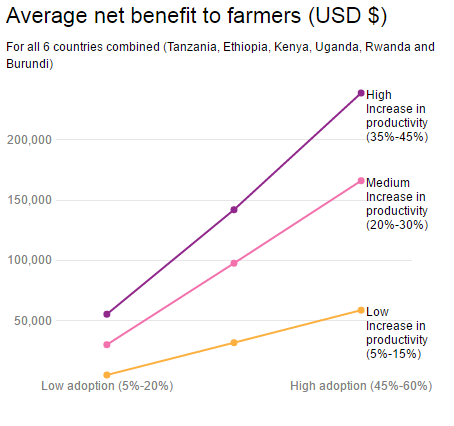 "The objective of this study was to understand the potential payoff for investment in action to improve dissemination and use of improved forages," Prager tells SciDev.Net.
"The objective of this study was to understand the potential payoff for investment in action to improve dissemination and use of improved forages."

Steven Prager, International Center for Tropical Agriculture (CIAT)
One of the big unknowns in the development and implementation of agricultural technology, according to Prager, is how many potential users are required to make it worthwhile to invest in the development and designation of different technologies.
Solomon Mwendia, a co-author of the report and forage agronomist at CIAT, Kenya, says the Brachiaria grass is climate-friendly and has high crude protein and less fiber, which leads to better use and digestion by cattle, in turn leading to less methane gas produced for each unit of livestock product such as milk or meat. Methane is one of the gases associated with global warming.
"This grass is relatively drought-tolerant compared to the Napier or elephant grass commonly used in East Africa. In addition, the grass can easily be conserved as hay for utilisation during forages scarcity or for sale," Mwendia adds.
Smallholder dairy farming is important in East Africa for household nutrition and income. In Kenya, for instance, Mwendia says that milk production increased by 150 per cent between 2004 and 2012, from 197.3 million litres to 497.9 million litres.
---
---
The grass is native to Africa, according to Mwendia. It can grow in areas with up to 3,000 millimetres of rainfall and also withstand dry seasons of three to six months during which the leaf may remain green while other tropical species die. These conditions exist in other regions outside eastern Africa such as in Democratic Republic of Congo, Malawi, Zambia and Zimbabwe.
Sita Ghimire, a senior scientist at the Biosciences eastern and central Africa (BecA) Hub, who leads a research programme that focuses on Brachiaria, says 40 per cent increase in milk production is achievable in East Africa after feeding livestock with Brachiaria.
---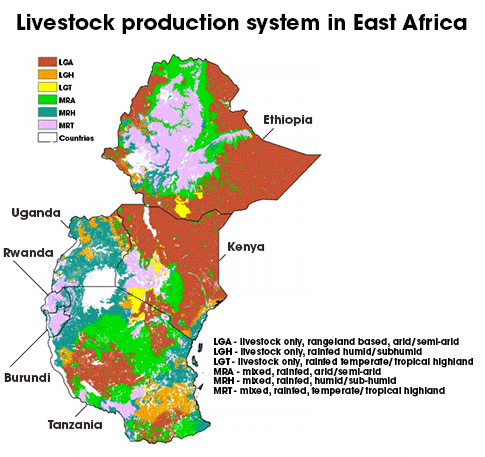 ---
"Forage has been always a major challenge in livestock production in East Africa. It is mainly because of declining pastureland, frequent and prolonged drought and not many farmers conserve forage for dry season," Ghimire says.
The major challenges for adoption of Brachiaria technology in East Africa are limited availability of seeds or  vegetative materials, lack of standardised agronomic practices for different production environments and lack of varieties that are well adapted to East African environment, Ghimire explains, citing other challenges such as pest and diseases, and low funding forage research and development.
This piece was produced by SciDev.Net's Sub-Saharan Africa English desk.
References
Carlos González and others Improved forages and milk production in East Africa. A case study in the series: Economic foresight for understanding the role of investments in agriculture for the global food system (October 2016, Internacional de Agricultura Tropical [CIAT])
This article was originally published on SciDev.Net. Read the original article.