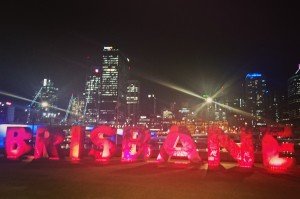 Lisa Martin, GPC Outreach & Communications Manager
As a truly global organization, the Global Plant Council hosts its annual general meeting (AGM) on a different continent each year, to give our members from far-flung corners of the globe the opportunity to come together to celebrate progress and discuss future strategies to develop plant science for global challenges.
With our current Chair Professor Barry Pogson hailing from 'down under', this year's AGM was held in Brisbane, Australia, which made for a warm, sunny change from autumnal London for Ruth and I!
Starting bright and early at 8 am on Monday 3rd October, representatives from the GPC's member societies joined the GPC's Executive Board at a hotel in Brisbane's central business district. After a welcome from the Chair, and a minute's respectful silence to remember our former Board Member Professor Carl Douglas, who sadly passed away earlier this year, introductions were made and we got down to business. Ruth and myself first provided introductions to, and updates on, the main GPC initiatives and activities.
The DivSeek initiative continues to grow in strength and numbers, with 67 partner organizations now committed to working together to address genomic and phenomic data challenges in plant science. With funding from the UK's Biotechnology and Biological Sciences Research Council Ruth has been providing essential coordination services specifically for this project, and with DivSeek Chair (Professor Susan McCouch) and a Steering Committee in place, the initiative is making real progress; a number of working groups have been launched to actively engage DivSeek partners and help the initiative advance its mission and aims.
Our other major, current initiative is in the area of Stress Resilience. As you may have read around this time last year, the GPC held a workshop and discussion forum on the subject of 'Stress Resilient Cropping Systems for the Future', in conjunction with our 2015 AGM in Brazil. This successful two-day event brought together experts in this area to share and showcase new research, tools and techniques. We are now turning our discussions from this meeting into a forthcoming white paper, and hopefully a commentary or two for publication in a high impact journal – we'll let you know when these have been launched!
Then it was my turn to speak on the subject of outreach and communication. With much help from our New Media Fellow (NMF) Sarah Jose (and our former NMF Amelia-Frizell Armitage, who left the GPC for a new job earlier this year), the GPC's social media efforts have been tremendously successful this year. We now have nearly 3000 followers on Twitter, hundreds of 'fans' on Facebook, and over 1200 subscribers to our monthly e-Bulletin (though readership is much wider, thanks to many of our Member Organizations who also distribute this newsletter!). We were also pleased to welcome Current Plant Biology to our journal supporters; they join Journal of Experimental Botany, Nature Plants and New Phytologist in providing some financial sponsorship to support our outreach efforts.
In other activity updates, we discussed Plantae, the social media-cum-knowledge hub that the GPC has been working on developing with the American Society of Plant Biologists. Plantae is in beta testing mode to capture feedback on the design and user experience, but is growing and evolving all the time. We encourage you to register an account and sign up, if you haven't already done so!
Sadly our President Bill Davies was unable to attend the AGM, but Ruth and Barry explained the premise of a new GPC Knowledge Exchange initiative that Bill is working hard to get off the ground. If successful in securing funding to progress this project, we hope to be involved with the development of an online training platform to transfer knowledge from the laboratory to the field – an exciting idea that will, we hope, be of invaluable benefit to communities in developing regions.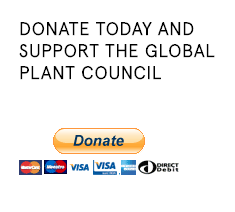 As with many research networks and non-profit organizations, securing long term funding for the GPC is a continual challenge. The GPC's main source of income is its member organizations; a revised membership fee structure was agreed at last year's AGM, but further refinement and additional sources of funding will be required to ensure the continued sustainability of the GPC. As such we are actively seeking donations to help us continue the work of GPC so if you would like to make a contribution to support our efforts, you can do so via our PayPal giving link here: https://globalplantcouncil.org/donate.
Happily, we are pleased to welcome three new affiliate members to our ranks – the Center for Plant Aging Research in Korea, the Max Planck Institute for Molecular Plant Physiology in Germany, and the ARC Centre of Excellence in Plant Energy Biology in Australia.
Before discussing the GPC's vision for the future, we took the opportunity to hear from our Member Organizations about what they would like the GPC to do for them, and what they can do for us. Lots of excellent suggestions for cross-collaborations, outreach, and novel funding sources were made, and we will be eagerly following up on these in the coming months – watch this space!
In addition to the AGM GPC also hosted a lunchtime symposium during the ComBio 2016 meeting, entitled, "Addressing Global Challenges in Plant Science: the Importance of Co-operation beyond National Boundaries". During this session, we showcased exemplar projects involving multi-national stakeholders, stressing that global challenges need global solutions, and highlighting the unique and essential role that GPC plays.
Ruth spoke about DivSeek, GPC Treasurer Vicky Buchanan-Wollaston spoke about our Stress Resilience initiative, and Barry provided an overview of the Nutritional Security Initiative and also filled in for Bill by talking about our proposed plans for the knowledge exchange platform mentioned above. Professor Andy Borrell from the University of Queensland also gave an engaging and insightful talk about why a transnational approach to plant, crop and agricultural science is needed, highlighting some of the real-world scenarios where the GPC might offer practical, proactive support for research across borders.
It was fantastic to see over 70 plant scientists who gave up their lunchtime to attend our symposium – there were plenty of questions and very positive feedback at the end that we hope this will spark new ideas, interactions and collaborations. We felt very encouraged by the interest in and support for the GPC and its initiatives, and look forward to being able to continue serving the global plant science community.