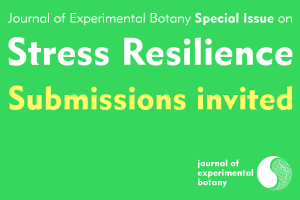 Following the recent Stress Resilience Symposium and Discussion Forum that we co-hosted in Brazil last month with the Society for Experimental Biology, we are pleased to announce a call for papers for a forthcoming Special Issue of the SEB's Journal of Experimental Botany.
Achieving food security in a changing and unpredictable climate urgently requires a better understanding of the mechanisms by which plants interact with and respond to their environments. This special issue will bring together a collection of papers highlighting the best current research in stress resilience contributing to global efforts to develop crops and cropping systems that are better able to deal with fluctuating and stressful environmental conditions.
Proposals are invited for the submission of new and innovative research papers that contribute to this goal (submission before the end of January 2016 will guarantee inclusion in the special issue pending positive peer review). Confirmed contributors already include: Andrew Borrell (University of Queensland, Australia), Elizabete Carmo-Silva (Lancaster University, UK), Scott Chapman (CSIRO, Australia), Bill Davies (GPC President and Lancaster University, UK), Lyza Maron (Cornell University, USA), Jianbo Shen (China Agricultural University), and Roberto Tuberosa (University of Bologna, Italy).
If you would like to contribute a paper, please email a title and short abstract to Mary Traynor: m.traynor@lancaster.ac.uk.