Please note, due to Coronavirus outbreak, many of the conferences are either postponed or cancelled.
Please check directly with the events organizers


Plant Science Symposium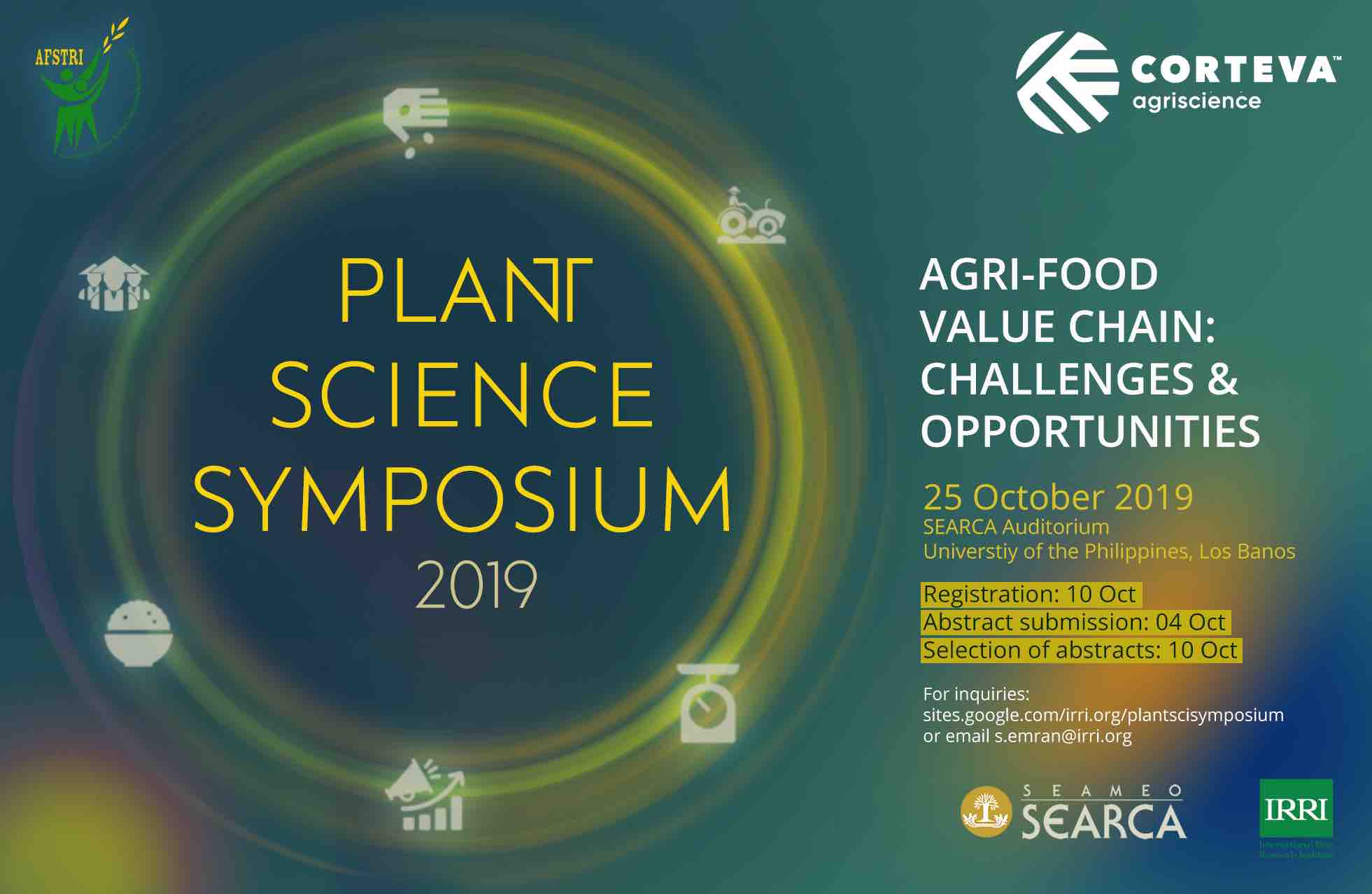 ABOUT THE SYMPOSIUM
The Plant Sciences Symposium is primarily a student organized symposia series sponsored by Corteva Agriscience™, an agriculture division of DowDupont™, that is held at universities and research institutes worldwide. The objective of the Symposium is to promote the interaction between scientists and experts of both public and private sectors. In October 2019, the International Rice Research Institute (IRRI) will host the Plant Science Symposium in Los Baños, Philippines.
THEME
The theme of the symposium is "Agri-food value chain: Challenges and Opportunities".
Focusing on five levels of the value chain: 1) Agri-input manufacturer, 2) Farmers, 3) Food manufacturer and traders, 4) Food retailers, and 5) Consumers.
ABOUT THE HOST
IRRI is the world's premier research organization dedicated to reducing poverty and hunger through rice science, improving the health and welfare of rice farmers and consumers, and protecting rice-growing environments for future generations. It is an independent, nonprofit, research and educational institute, founded in 1960 by the Ford and Rockefeller foundations with support from the Philippine government. The Institute is also a part of the Consultative Group on International Agricultural Research (CGIAR), a global partnership that unites organizations engaged in research for a food-secured future.
The Symposium is organized by the Association of Fellows, Scholars, Trainees, and Residents of IRRI (AFSTRI) which is a scholar-based community responsible for trainings, sports, and cultural activities for all students, research scholars, postdoctoral fellows, and trainees at IRRI.
ABOUT THE CO-HOST
The Southeast Asian Regional Center for Graduate Study and Research in Agriculture (SEARCA) is one of the 26 specialist institutions of the Southeast Asian Ministers of Education Organization (SEAMEO). Established in 1966 and hosted by the Philippine government, SEARCA is mandated to strengthen institutional capacities in agricultural and rural development in Southeast Asia through graduate education and institutional development, research and development, and knowledge management. It serves the 11 SEAMEO member countries, namely, Brunei Darussalam, Cambodia, Indonesia, Lao PDR, Malaysia, Myanmar, the Philippines, Singapore, Thailand, Timor-Leste, and Vietnam.
Please note, due to Coronavirus outbreak, many of the conferences are either postponed or cancelled.
Please check directly with the events organizers