Monogram Network Meeting 2021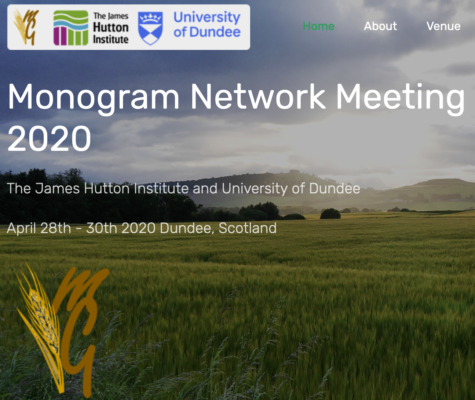 The Monogram Network consists of UK based researchers with an active interest in small grain cereal and grass (including the C4 energy grasses) research. Commercial scientists and plant breeders are active members and provide the link between Monogram science and commercial exploitation. Monogram includes both basic and more applied research and its members span disciplines including plant genetics, physiology, pathology, breeding, and bioinformatics. Monogram also has extensive expertise in outreach activities and links with industry.
Monogram aims to promote coordination and information flow amongst the community and ensure its visibility at the national and international level, thereby strengthening UK efforts in these species. Monogram is the focal point for integration of the UK grass and cereals community and represents it at the UK Plant Sciences Federation. Monogram also hopes to integrate more closely with the wider plant sciences community and provide a link to help lower the entry barriers for new researchers in the area.
---
GARNet are delighted to be able to support early career researchers to attend the Monogram2020 meeting at the University of Dundee.
https://ics.hutton.ac.uk/monogram20/
GARNet are able to provide £200 to each successful applicant to help with meeting costs. TheyDundeeDundeeDun hope to support attendance of at least 6 applicants.
Download the application form here.
Eligibility: At the time of the meeting the applicant must a UK-based early career researcher (student, postdoc or technical staff) who is within 10 years of graduating from their undergraduate degree. The applicant must present a poster or talk at the Monogram meeting. Researchers whose work lies at the intersection between model organisms and crop plants will be given preference. A maximum of two awards will be made to applicants working with the same supervisor.
Successful applicants will be asked to provide a 500-word summary about their experiences at the Monogram meeting for publication in the GARNish newsletter or on the GARNet blog. Applicants will be provided with the bursary once evidence is provided of meeting registration and poster abstract submission.
Please note, due to Coronavirus outbreak, many of the conferences are either postponed or cancelled.
Please check directly with the events organizers